Coinciding with Pride Month in June, LiVEART.US presents, "Queerin' Boundaries," exploring notions of gender and embodiment. The program features artists whose work treat corporeal constructions of the "masculine," and "feminine" through various manifestations of Live Art.
Participating artists: Pamela Booker, Eileen Doyle, Shawn Escarciga, Kris Grey, and Cupid Ojala.
Organized and curated by Hector Canonge.
LiVEART.US is a new platform established to feature works by local, national, and international artists working in Performance Art and its diverse manifestations. Created and organized by interdisciplinary artist, Hector Canonge, LiVEART.US is a new program that features works where the body, as main instrument for artistic creation and expression, is the catalyst for sensorial experiences, cultural interpretation, and critical reflection. The program's main objective is to further support the creation and presentation of new works in Live Action Art in an environment suitable for reflection and dialogue. LiVEART.US follows and complements the monthly program TALKaCTIVE initiated by Canonge last September.
Artists' Biographies: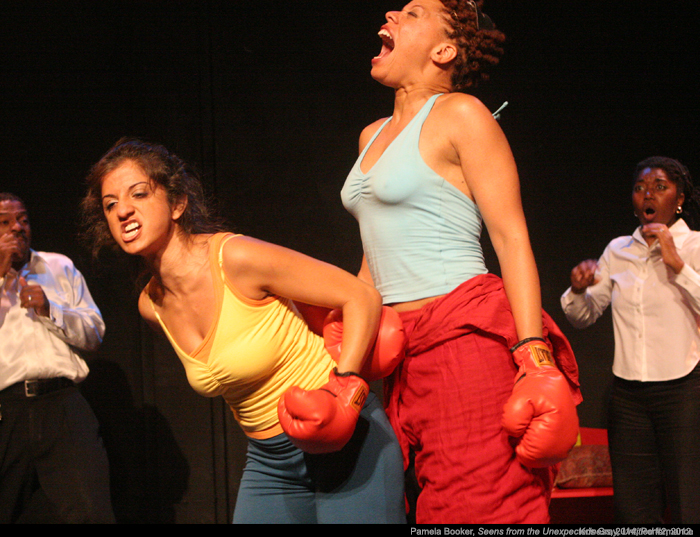 Pamela Booker is an interdisciplinary writer-photographer, educator, and urban garden enthusiast. Her performance, literary, and media-based works explore the intersections of social justice, race, identity, and sustainability issues. A Writing Fellow at VCCA, (Virginia Center for the Creative Arts) Booker has been awarded workshop residences in Provincetown, MA, at the Fine Arts Work Center, and the Norman Mailer Writers Colony. Past works includes Dust: murmurs and a play (2008) staged at HERE Arts. Earlier this year, a photograph from her series on the American flag and drag culture, was selected for publication in For Whom It Stands (2014) at the Reginald F. Lewis Museum— Smithsonian Affiliate, in Baltimore. Booker will deliver a performance-read of her play "Seens from the Unexpected of Love," included in the recently released book anthology "Black/tino Queer Performance" (Edited by E. Patrick Johnson and Ramon H. Rivera), and excerpts from her forthcoming novel, "Fierce! Remains," the entangled story behind a mutilated body that's discovered in the basement of a deceased, Stonewall-era, drag activist.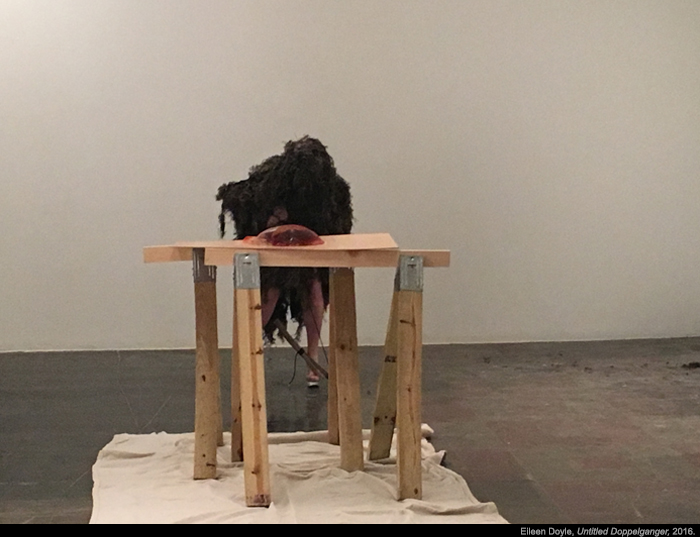 Eileen Doyle is a multimedia artist, independent curator, and arts administrator living and working in Philadelphia. She received her BFA from The School of the Art Institute of Chicago. Currently, she is a Masters candidate in Drexel University's Arts Administration program. Between 2009 and 2013, she curated the Garbage World Performance Series with events and festivals in Chicago and Philadelphia. She has performed and shown work in Chicago, Philadelphia, New York City, Baltimore, and Pittsburgh.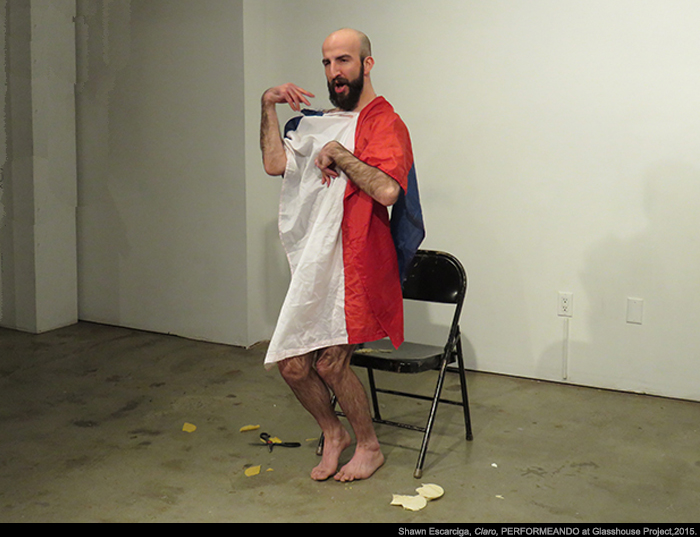 Shawn Escarciga is a queer Butoh and performance artist based in Brooklyn. His solo work and choreography has been presented throughout New York City (Panoply, MIX NYC, Glasshouse [as part of PERFORMEANDO], Triskelion, etc.), Chicago, Boston and abroad (Month of Performance Art - Berlin with PERFORMEANDO). He trains regularly and has performed with the Vangeline Theater as well as studying with visiting Butoh masters through the New York Butoh Institute.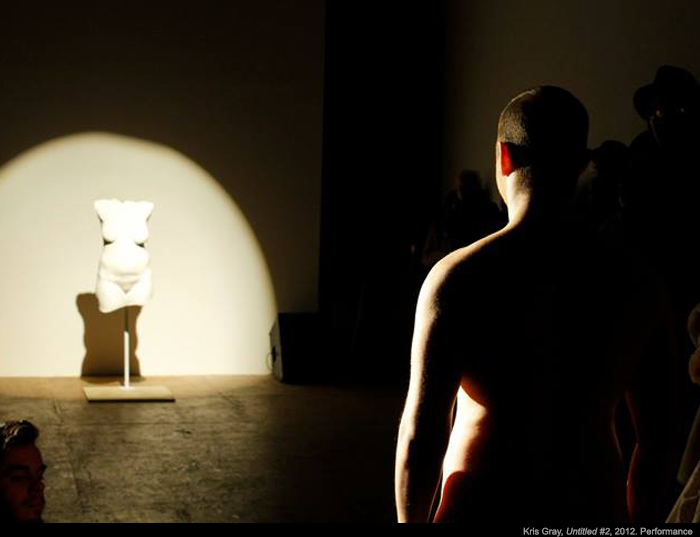 Kris Grey is a New York City based gender-queer artist whose work exists at the intersection of communication, activism, community building, storytelling, lecture, and studio production. Grey earned a Bachelor of Fine Art from the Maryland Institute College of Art and a Masters Degree in Fine Art from Ohio University. They perform, teach, and exhibit work internationally. Grey was a 2012 Fire Island Artist Residency recipient, a resident artist for the ANTI Festival for Contemporary Art in Kupoio, Finland in 2012 and 2014, and a teaching artist in 2013 at The International Centre for Training in the Performing Arts in Brussels, Belgium. Together with Maya Ciarrocchi, Grey produces work under the name Gender/Power. Gender/Power has been awarded a Baryshnikov Art Center residency, a Lower Manhattan Cultural Council residency, a Franklin Furnace grant, and a MAP Fund Grant. Grey's writing has been published in print and on the web for Huffington Post and Original Plumbing. Their latest writing, Trans*feminism: fragmenting and re-reading the history of art through a trans* perspective, written in collaboration with Jennie Klein, was published in December of 2015 in Otherwise: Imagining Queer Feminist Art Histories.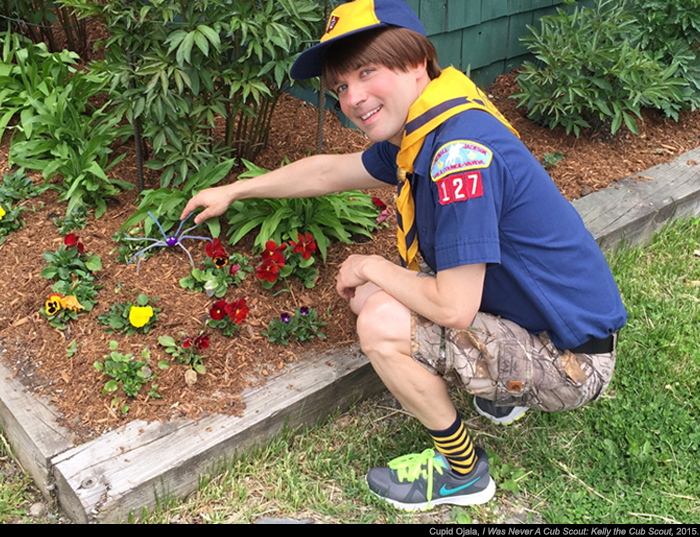 Cupid Ojala grew up in a conservative Mormon family in rural Bumpass, Virginia. He transitioned from female to male in 2003 and resides in Brooklyn. He attended Parsons in 2012, and Virginia Commonwealth University in 1999. In 2016 He attended Vermont Studio Center and performed Love Prescriptions at Turnhalle in Bern Switzerland. In 2015 at the Leslie+Lohman Museum's Prince St. Project he had his solo debut in New York. In 2014 he performed at Art In Odd Places. In 2013, he performed for Ernesto Pujol in Time After Us as part of the Crossing the Line Festival for The French Institute Alliance Française (FIAF). His had two publications, The Gender Wilderness Coloring Book and Ranger Risky Flipbook available at Printed Matter.
PERFORMEANDO
Flushing Meadows Corona Park
5:30 - 7:30 PM
** After LiVEART.US performances at the museum, join us for PERFORMEANDO with the presentation of public interventions at Flushing Meadows Corona Park. **
Participating Artists: Camila Cañeque (Spain), Angela Freiberger (Brazil), Claribel Jolie Pichardo (Dominican Republic), and Rosella Matamorros (Costa Rica).
Short biographies: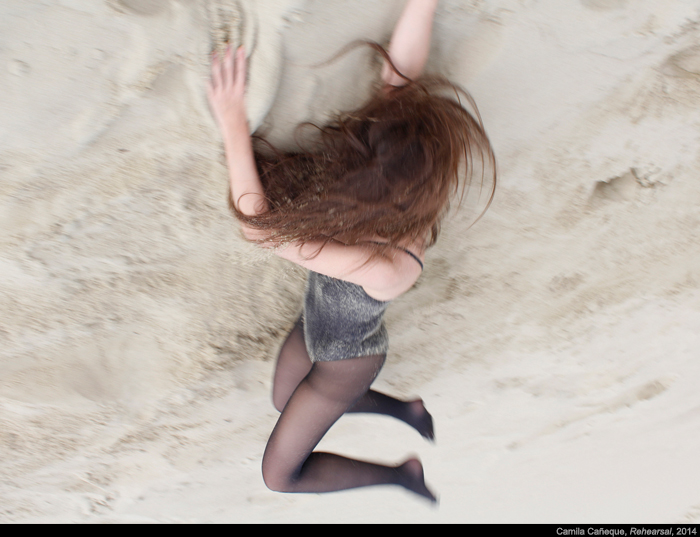 Camila Cañeque was born in Barcelona, Spain. She is a conceptual performance artist whose practice consists of the construction and incarnation of characters, a time-based work that frequently affects her biography and vice-versa, dwelling in the grey area between fiction and fact, role-play and self. The different personas, as social and aesthetic objects, are the main tool for each specific research, where she toys with the nuances of authenticity and challenges the parameters of subject/object and public/private, generating a maze of mirrors where it is difficult to discern between the purely real and the deliberate representation. She has performed in a variety of venues what she considers to be the essence of the long durational narratives, pieces that repeatedly involve a circular time, with no beginning or end but a permanent standby, a pause ad nauseam stating non-action as the only possible action.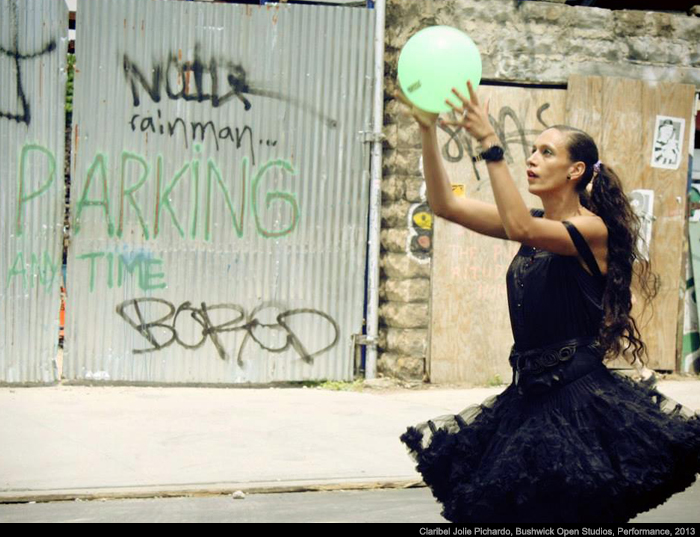 Claribel Jolie Pichardo was born and raised in NYC. Her artistic background is multi-faceted drawing from visual arts, performance and writing. She was trained academically in the arts, and likes to describe her performance work as nomadic, using personal experiences to set the stage for spontaneous interactions with live audiences. Pichardo's work was featured by Exit Art's Trickster Theater, Grace Exhibition Space, Panoply Performance Laboratory, Glasshouse Project, and in programs such as Bushwick Open Studios for Spread Art, and Performance Anxiety. Pichardo has been presenting in PERFORMEANDO since the program was initiated in 2013.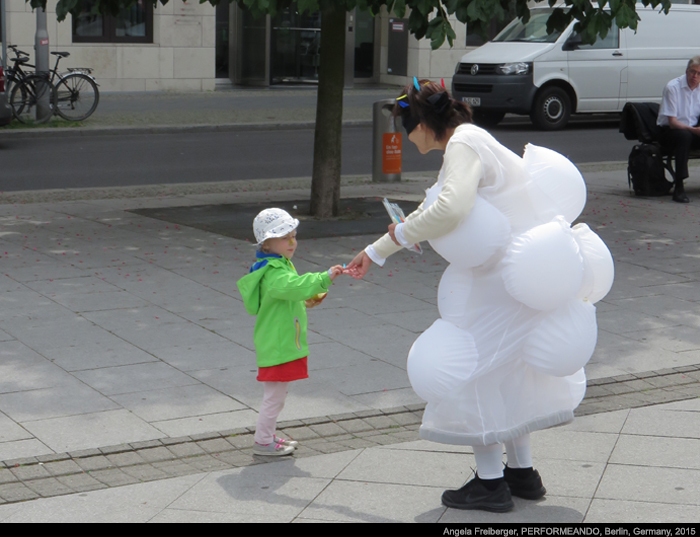 Angela Freiberger was born in Rio de Janeiro, Brazil. While still living in Brazil, she embarked in numerous adventures and journeys, producing performances, videos and interactive works in different places in the world, from Macapá in the Northeast of Brazil to New York City, and later France, England and other countries in Europe. For the past twelve years Angela has been living in New York City where she obtained a Masters in Fine Arts at the State University of New York, Stony Brook (2007). In 2009, Freiberger performed with Marina Abramovic at her solo exhibition, "The Artist is Present," at the Museum of Modern Art in New York. In 2010, Angela received the Senior Fellowship from Terra Foundation for American Art in Europe (Giverny, France). In 2012, she participated at a residency in Hasselt, Belgium, "Hotel de Immigrantes 2, Cosmopolitan Stranger," which paralleled Manifesta 9. Freiberger has been presenting in PERFORMEANDO since 2014 participating in the program's European version during Month of Performance Art Berlin in 2015.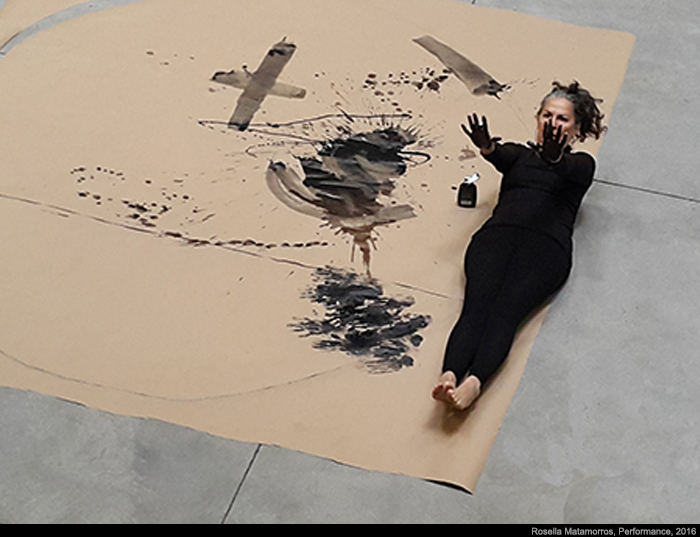 Rossella Matamoros was born in San Jose, Costa Rica. Her multidisciplinary art practice involves drawing, painting, sculpture, installation, set design, dramaturgy of dress, performance art, and video. She has a degree in Fine Arts from Universidad de Costa Rica, and obtained her MFA, with a Fulbright scholarship from George Washington University, in Washington DC. She was the recipient of the scholarships by French Government and by Japan Foundation. Licentiate in Visual Arts, University of Costa Rica. Matamoros was awarded the Costa Rican National price Aquileo J. Echeverría, 1998 & 2003; the PROARTES, Costa Rica, 2010; and Chapingo Biennial, México, 2008, among others. She has exhibited, individually and collectively, in more than 135 exhibitions for over 30 years, in Costa Rica, the United States, Italy, Spain, France, Switzerland, Taiwan, Japan, Mexico, Argentina, Colombia, Guatemala, Peru, Panama, Honduras, El Salvador, Peru & Guatemala. She has participated in the Venice Biennalef, Italy; San Juan Bienal, Puerto Rico; Tijuana Bienal, Mexico; Chapingo Bienal, Mexico; Costa Rica, Bienarte y Valoarte; El Salvador, Marte & Idearte, Honduras.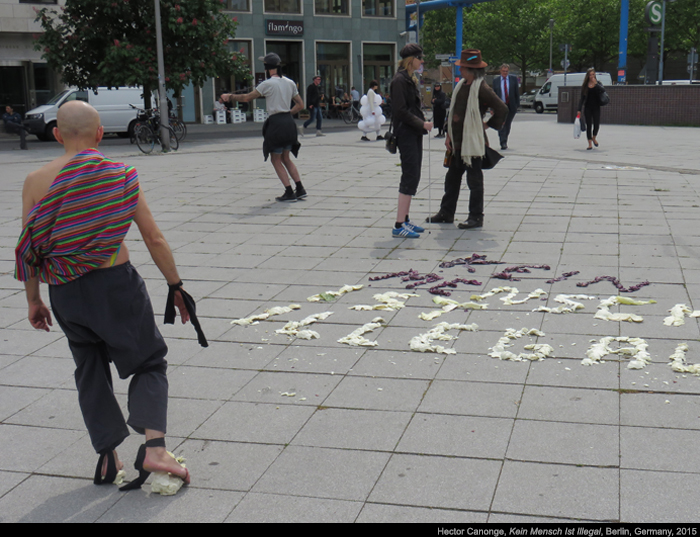 Hector Canonge (Founder and director of LiVEART.US) is an interdisciplinary artist, curator, media educator and cultural entrepreneur based in New York City. His work incorporates the use of new media technologies, cinematic narratives, Live Action Art, and Social Practice to explore and treat issues related to constructions of identity, gender roles, psychogeography, and the politics of migration. He has exhibited and presented broadly in the United States, Latin America, Europe and Asia. As cultural entrepreneur, Canonge created and runs the Annual Performance Art Festival NYC, ITINERANT, started ARTerial Performance Lab (APLAB), an transcontinental initiative to foster collaboration among performance artists from the Americas, and directs his independent programs: PERFORMEANDO, a program that focuses on featuring Hispanic performance artists living in the United States and Europe, NEXUSURNEXUS a virtual platform for Live Action Art, and PERFORMAXIS, an international residency program in collaboration with galleries and art spaces in Latin America. After living most of his life in the United States, Canonge returned to South America in 2012, and lived abroad for almost 3 years. The artist returned to New York City in late 2015 to continue with the development and execution of new projects, exhibitions, and initiatives such as ITINERANT, Performance Art Festival NYC, taking place in the 5 boroughs in the city. He also launched TALKaCTIVE: Performance Art Conversation Series, CONVIVIR, the international residency program at MODULO 715, his new space in Jackson Heights, Queens. In 2016, Canonge initiated the Performance Art program LiVEART.US hosted at the Queens Museum, started teaching Performance and Media Arts at City University of New York, and continue with his program PERFORMEANDO, the performance art program that focuses on featuring works by latino/a artists in the USA. Canonge is currently working in his new project "A Home of Our Own" as resident artist for Residency Unlimited.
Website: www.hectorcanonge.net/liveart.us
Email: liveart.us@gmail.com
Facebook: https://www.facebook.com/notes/hector-canonge/liveartus/10153661002959422
###